Main content starts here, tab to start navigating
Menus
Summer Dinner Menu below.
Ask for our Nightly Additions
PAO
house made breads
Pao Buns

Portuguese sweet buns, maldon salt

$6.00

Tandoori Naan (V)

house made naan baked in tandoor oven

$4.00

Bullet Naan

tandoor naan, spicy garlic serrano butter

$5.00

Kulcha

stuffed potato flat bread, mash minted peas, mozzarella, goat cheese, tomato neem chutney

$9.00

Charred Sourdough

huose made sourdough, bullet butter

$6.00
Garden
share plates served tapas style
Cassava Bombas

yucca croquettes, pimento cheese, tomato neem chutney

$8.00

Dhokla

steamed semolina cake, pineapple raita, the chutney's, boondi

$10.00

Chamucas

chickpea samosa, tomato neem chutney

$12.00

Vada Pao

two mini Portuguese sweet buns filled with potato tiki, the chutney's, crushed peanuts

$10.00

3 chili paneer

paneer cheese, peppers, tomato, crushed cashews, pineapple raita naan

$14.00

Tandoori Roots

tandoor roasted masala carrots & beets, whipped honey ricotta, pistachios

$14.00

Aloo Gobi bravas

crispy fried potatoes, roasted cauliflower, canteen curry, aioli, raita

$12.00

Summer Salad

arugula, melon, grilled paneer, tomatoes, cashew tahini

$12.00

Masala Hummus

chickpea-tahini spiced hummus, naan, crudites

$10.00

Pizza da Silva

creamed greens, mozzarella, grilled paneer, roasted garlic tomatoes, house dough

$13.00
Seafood
East Coast Oysters

ask for daily selection

$18.00

$36.00

Crab Pani Puri

Semolina puffs, lump crab, avocado puree, the chutneys, coconut pani

$14.00

Fofos de Bacalhau

salted cod & potato croquettes, olives, oregano piri piri chutney

$12.00

da Gama Mussels

Mediterranean black mussels, canteen curry, white wine, bullet toast

$14.00

Escabeche do Mar

salsa verde marinated octopus, shrimp, crab, fresh fennel, coconut pani

$15.00

Sardinhas Recheado

grilled sardines, recheado marinade, charred toast, pickled onions

$14.00

Prawn Balchao

gulf shrimp, tangy Goan tamarind chili sauce

$13.00

Grilled Oysters

six gulf oysters, breadcrumbs, salsa verde, parmigiana butter

$18.00

Banana Leaf Branzino

Mediterranean whole sea bass wrapped in banana leaves, Goan cafreal, basmati rice

$32.00
Meat
Peanut Chicken Tikka

tandoor chicken, peanut garlic coconut dry chutney, raita

$14.00

Piri Piri Chicken

wodd grilled to order half piri piri chicken, fries

$21.00

Choris Chili Fry

smoked Goan sausage, roasted peppers, potatoes, greens

$14.00

Beef Mishkaki

tenderloin skewers, grilled east African style, bullet butter yucca, raita

$24.00

Grilled Lamb Kebob

wood grilled spiced lamb, raita, fries

$18.00

Lamb Rib Mattar

wood grilled braised lamb ribs, canteen curry, green peas, fried onions

$18.00

Lamb Keema Pizza

ground lamb, tomato neem chutney, blue cheese, pickled onions, green peas, mozzarella, house dough

$15.00
The Curry
all our curry are cooked slow and low with in house ground toasted spices, and love.
Mum's Chicken Curry

braised chicken, tomato-coconut milk curry masala

$16.00

Pork Vindaloo

braised pork curry, tamarind, kashmiri chili, peas, potato

$16.00

Chana Paneer

braised chickpeas, paneer cheese, tomato based curry

$15.00

Goan Fish

market fish, gulf shrimp, crab meat, potato, turmeric coconut curry masala

$24.00
Embelishments
items to complete your table
The Chutneys

Jalapneo-Cilantro, Tamarind-Jaggery, Coconut-mint, Oregano-piri piri, crispy papadum

$9.00

Gunpowder fries

gunpowder spice blend, turmeric aioli

$8.00

Yellow Dal

slow simmered yellow split pea lentil soup

$8.00

Rice & Ghee

basmati white rice & lentils, ghee

$6.00

Charred Chili Peppers

wood grilled shishito & serrano peppers

$7.00
Desserts
Ras Malai

sponge cake soaked in saffron milk, fresh ricotta, pistachio crumble

$10.00

Sticky Date Cake

date, ginger spice, dulce de leche caramel, caramelized banana

$10.00

Serradura Colada

coconut crumble, old monk rum pudding, pineapple marmalade

$9.00

Mango Kulfi Ice cream

house made ice cream, spiced pistachio & parle-g cookie crumble

$8.00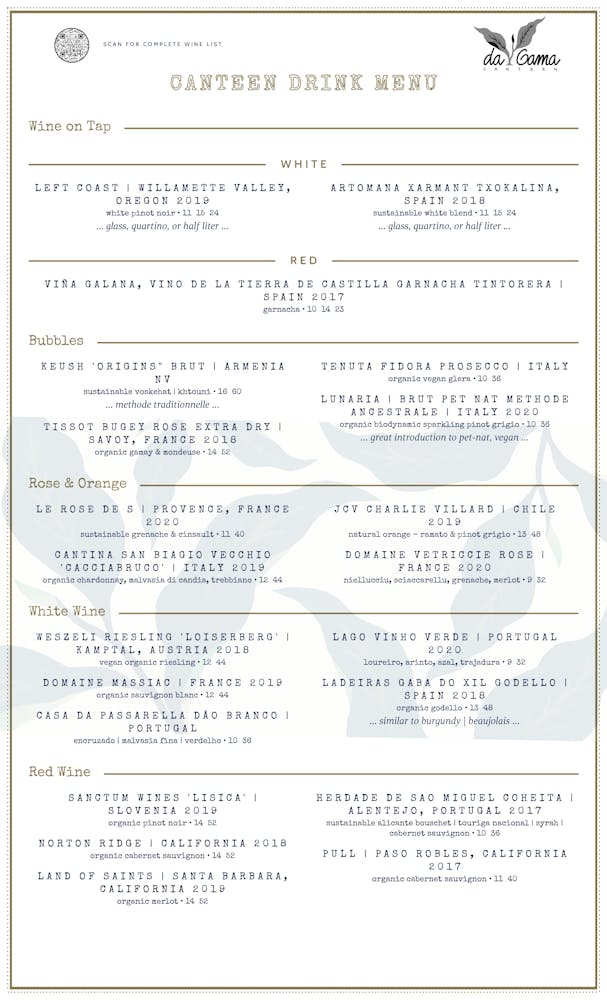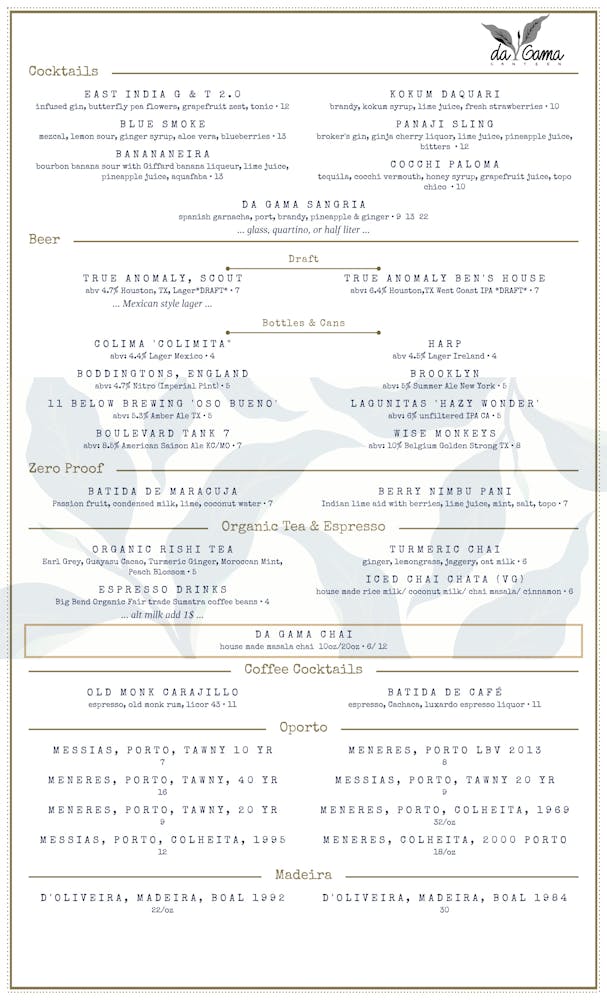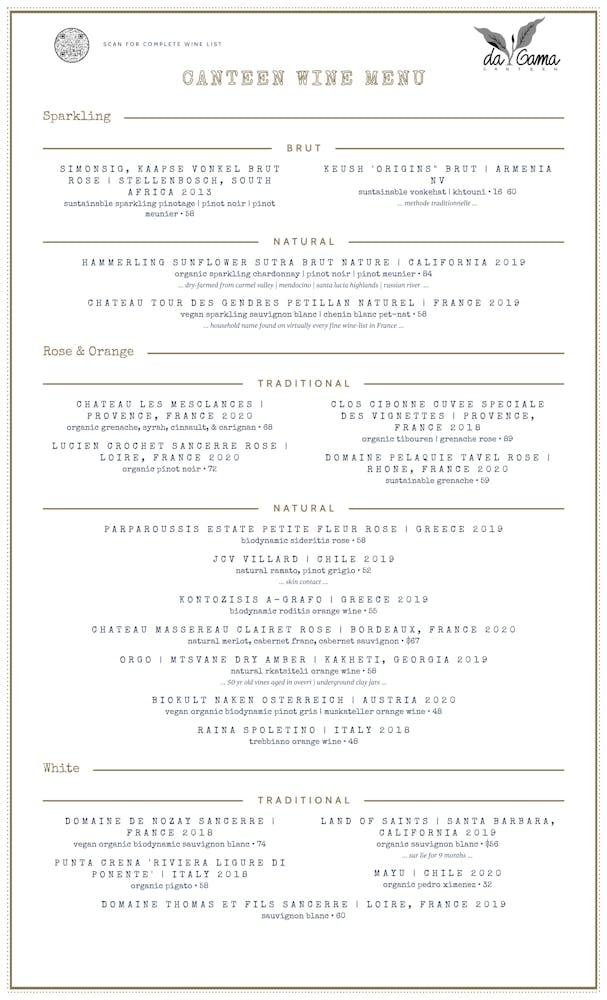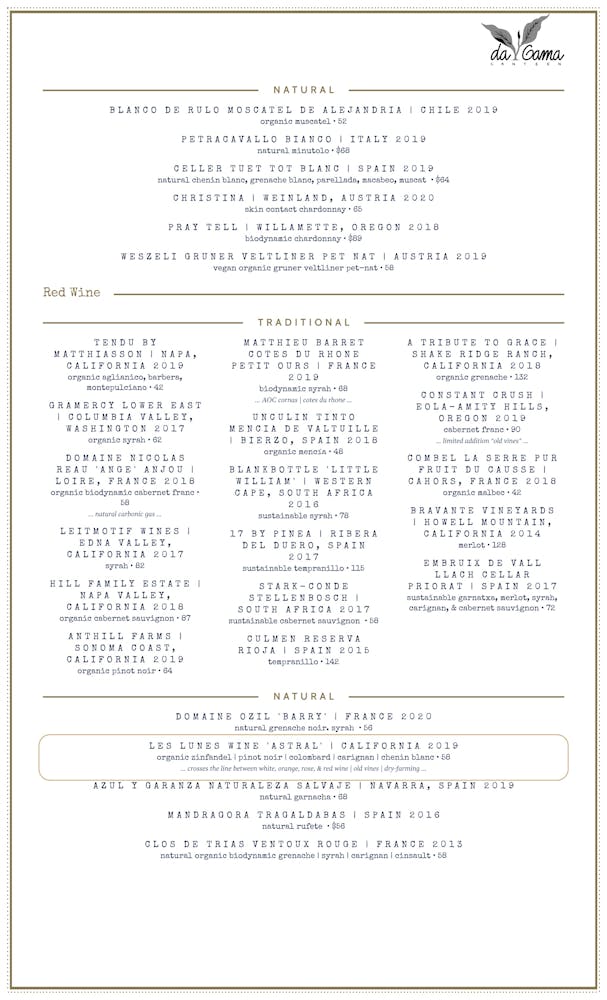 Dine in only.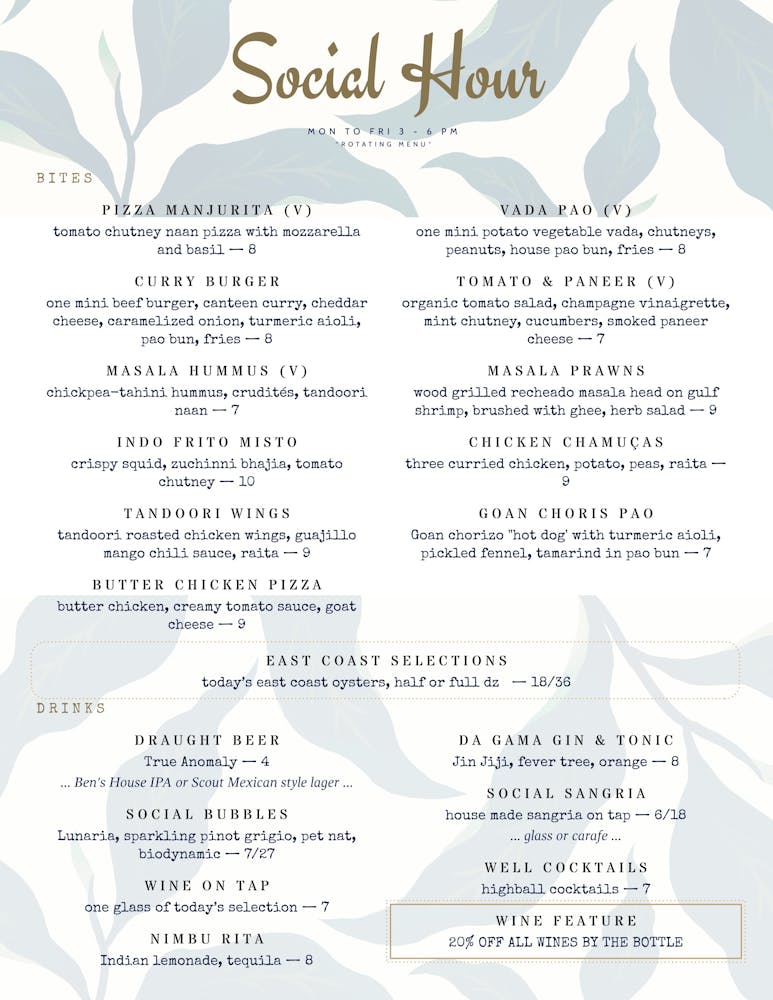 Saturday's ONLY 9:30am - 2:00 pm + pop up's on M-K-T events...
Follow our IG & sign up on our contact page for notifications!