Main content starts here, tab to start navigating
Menus
Ask for our Nightly Additions
* Consuming raw or undercooked proteins may increase risk of foodborne illness.
Do Quinta
share plates served tapas style
Cassava Bombas (v)

yucca croquettes, pimento cheese, tomato neem chutney

$9.00

Dhokla (v)

steamed semolina cake, pineapple raita, the chutney's, boondi

$10.00

Chamucas (v)

chickpea samosa, tomato neem chutney

$12.00

Vada Pao (v)

two mini Portuguese sweet buns filled with potato tiki, the chutney's, crushed peanuts

$10.00

3 chili paneer (v)

paneer cheese, peppers, tomato, crushed cashews, pineapple raita naan

$14.00

Tandoori Roots (v)

seasonal vegetables with tandoori masala, cashew romesco, and smoked paneer crumble, chili oil

$14.00

Aloo Gobi bravas (v)

crispy fried potatoes, roasted cauliflower, canteen curry, aioli, raita

$12.00

Masala Hummus (v)

chickpea-tahini spiced hummus, naan, crudites

$12.00

Da Gama Salad

little gem lettuce, kale, fresh radish, tahini cashew dressing, pickled cauliflower, puffed rice

$14.00

Pizza da Silva(v)

saag pizza with local greens, mozzarella, grated panela, roasted garlic, and tomato

$13.00
DO CARNE
Peanut Chicken Tikka

tandoori chicken, peanut garlic coconut dry chutney, raita

$14.00

Piri Piri Chicken

wood grilled to order half piri piri chicken with gunpowder fries and kachumber

$21.00

Lamb Rib Mattar

wood grilled lamb ribs, canteen curry, green peas, fried onions

$18.00

* Beef Mishkaki

East African style charcoal grilled picanha beef skewers, bullet butter yucca, raita

$24.00

Grilled Lamb Kebob

wood grilled spiced lamb, raita, cilantro-mint chutney, kachumber, pulao rice

$22.00

Margao Pizza

Goan choris sausage, spiced tomato sauce, goat cheese, kale, mixed olives

$14.00
PÃO
Pao Buns

Portuguese sweet buns, maldon salt

$6.00

Tandoori Naan

house made flatbread baked in tandoor oven

$4.00

Charred Sourdough

huose made sourdough, bullet butter

$6.00

Sweet Potato Kulcha (V)

stuffed bolo do caco bread, roasted sweet potato, whipped blue cheese, mozzarella, masala curry

$10.00

Bullet Naan

house made flatbread baked in tandoor oven, serrano, cilantro butter

$5.00

Bacon $2.00
Do Mar
* East Coast Oysters

ask for daily selection

$18.00

$36.00

Crab Pani Puri

Semolina puffs, lump crab, avocado puree, the chutneys, coconut pani

$14.00

Fofos de Bacalhau

salted cod & potato croquettes, olives, oregano piri piri chutney

$12.00

da Gama Mussels

Mediterranean black mussels, canteen curry, white wine, bullet toast

$14.00

Escabeche do Mar

salsa verde marinated octopus, shrimp, crab, fresh fennel, coconut pani

$15.00

Sardinhas Recheado

grilled sardines, recheado marinade, charred toast, pickled onions

$14.00

Prawn Balchao

gulf shrimp, tangy Goan tamarind chili sauce

$13.00

Banana Leaf Branzino

Mediterranean whole sea bass wrapped in banana leaves, Goan cafreal, pulao rice

$32.00
The Curry
all our curry are cooked slow and low with in house ground toasted spices, and love.
Mum's Chicken Curry

braised chicken, tomato-coconut milk curry masala

$16.00

Pork Vindaloo

tangy and spicy braised pork curry with kashmiri chili, green peas, and potatoes

$16.00

Chana Paneer (v)

braised chickpeas, in a tomato based canteen curry with fried paneer cheese

$15.00

Goan Fish

market fish, gulf shrimp, crab meat, potato, turmeric coconut curry masala

$24.00

Saag Paneer (v)

local swiss chard & collard creamed greens, fried paneer Bhajia

$15.00
Embelishments
items to complete your table
The Chutneys (v)

Jalapneo-Cilantro, Tamarind-Jaggery, Coconut-mint, Oregano-piri piri, crispy papadum

$9.00

Gunpowder fries (v)

gunpowder spice blend, turmeric aioli

$8.00

Yellow Dal

slow simmered yellow split pea lentil soup

$8.00

Rice & Ghee (v)

basmati white rice & lentils, ghee

$6.00

Charred Chili Peppers (v)

wood grilled shishito & serrano peppers

$7.00

Rajma-Urad Dal (v)

rich vegetarian lentil and kidney bean "chili" served with basmati rice and raita.

$15.00
Desserts
Ras Malai

sponge cake soaked in saffron milk, fresh ricotta, pistachio crumble

$10.00

Sticky Date Cake

date, ginger spice, dulce de leche caramel, caramelized banana

$10.00

Serradura Colada

coconut crumble, old monk rum pudding, pineapple marmalade

$9.00

Chaice cream

house made cardamom ice cream, Parle-G cookie, Masala chai coffee caramel

$8.00
ONLY AVAILABLE MON-FRI 11:30-2:15PM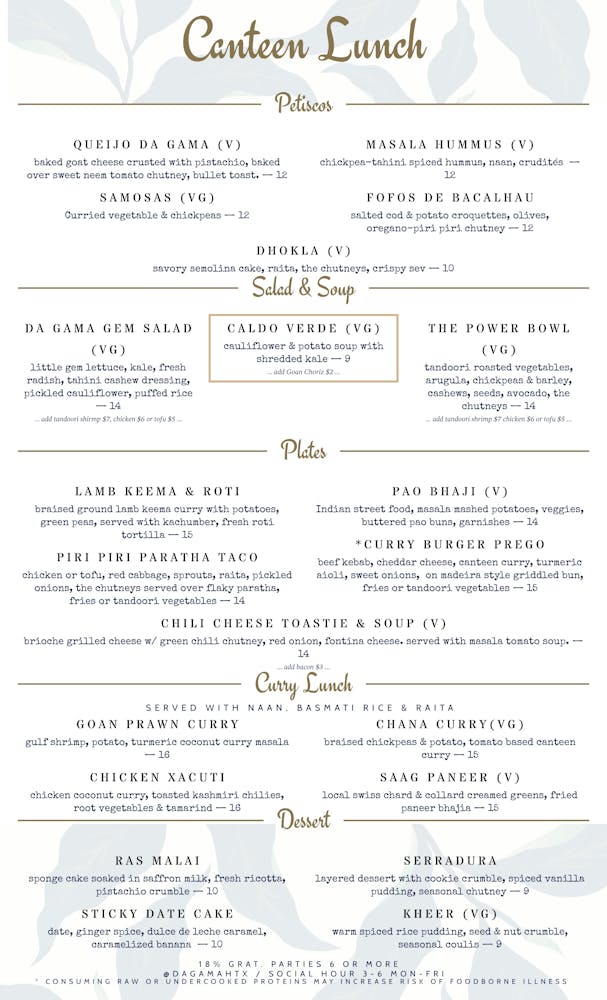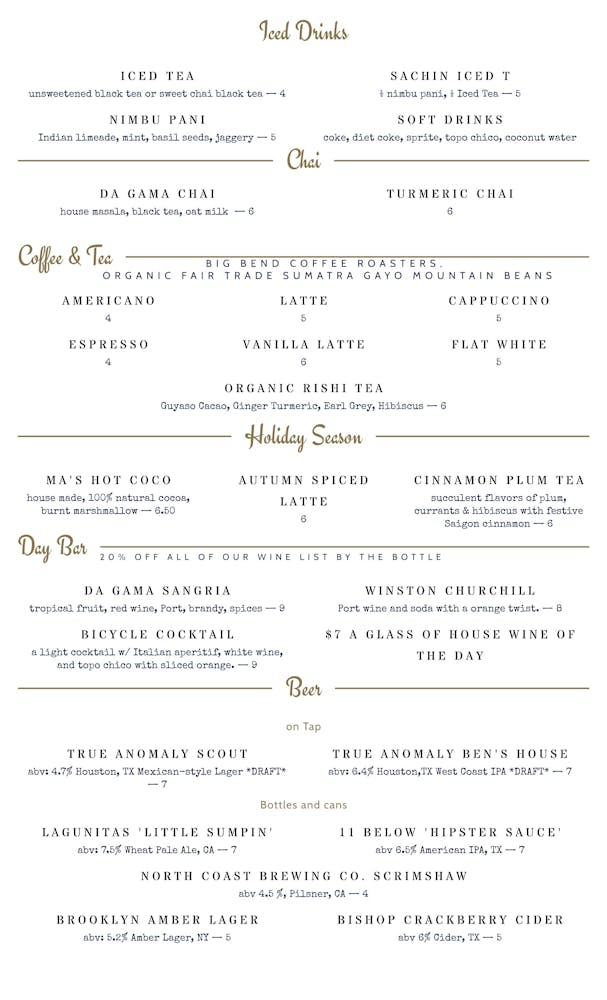 Monday through Friday 4-6 PM
Dine in only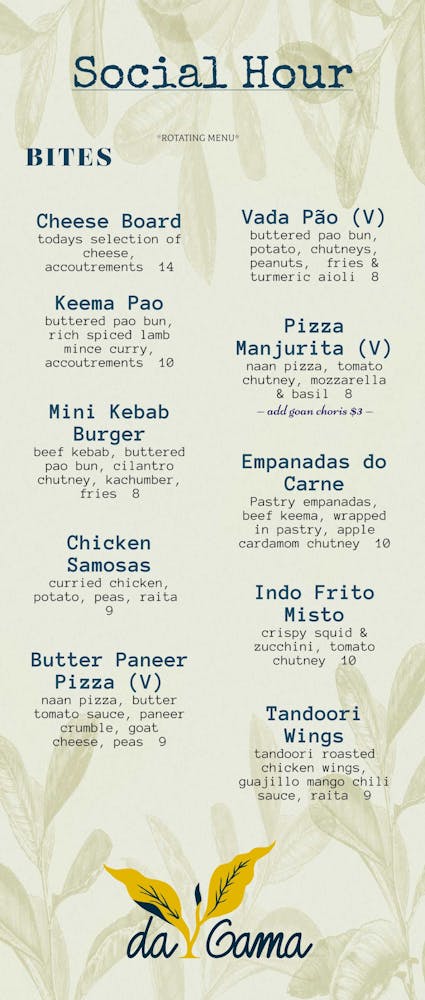 A walk up window featuring organic espresso & house made Chai.
Open Monday-Saturday 9:30 am-2:30 pm.
*Saturday Mornings*
features our Naasto snack menu 9:00-2:30
*Evenings*
take- away orders
Cocktails, beer & wine to go
stay tuned for weekly nightly window features
SAMPLE Saturday NAASTO Menu below...
Download PDF